Travel tips
Countries stickers, vignettes
Travel tips
Countries, stickers,  vignettes
Visiting countries
With the campers of Holland Campers you can visit all the countries that are mentioned on the green insurance card. These are all the countries in West and Eastern Europe.
List of countries you can visit
Austria
Belgium
Croatia
Czech republic
Denmark
France
Germany
Greece
Holland
Hungary
Italy
Luxembourg
Norway
Poland
Portugal
Slovenia
Spain
Sweden
Swiss
United Kingdom
When a country you want to visit is not in this list, please contact us.
To help you get going the NKC has gathered information about these countries that may be relevant for a camper trip. You can find this information of the NKC website under the heading countries information
Rental campers, environment zones, and environment stickers
We have placed environmental stickers for Germany and France. Nowadays there are environment zones in Belgium, Denmark, Germany, France and Austria. Do you want to know where you need an environment sticker and where to get them? You can download the made by app Green-zones.eu, this is downloadable for free in the Google Play store and the Apple store. It is important to know that all Holland Campers are equipped with the newest Euro 6 motors.
Environment sticker for Germany
Are you driving through or towards Germany, check whether you need an environment sticker. The environment zones are made to limit the air pollution. You can only enter such a zone with a car that has an environment sticker. These environment stickers (Umweltplaketten) are available online but also in the ANWB-stores. They cost €13,95.
All our Holland Campers do have a Green German Umwelt Plakette. 
Environment sticker/ Eco Vignette in France
Due to the new law (Crit'Air) French cities can introduce an environment zone (Zone á Circulation Restreinte, ZCR). In the city, like Paris, you can only enter the environment zone with a valid environment sticker (Vignet Crit'Air). There are also cities where you only need an environment sticker in case of prolonged air pollution. If there is no extreme air pollution you can enter the city without environment sticker. This is the case in a city like Lyon. The rules also apply to vehicles with international licence plates.
All our Holland Campers do have a yellow Crit 'l air sticker.
Other countries
For the countries mentioned above you can buy the vignettes through the ANWB. However, there are also a few other countries where vignettes may be necessary, but you can only buy them on location or on a website, which is most often usually not in English. When this is the case, it is usually easiest to arrange this on location.
Do you want to know if you need a specific travel document for you travel destiny? Go to ANWB countries information, choose the country where you are going to and get all kinds of practical information for on the road and the potential costs of a vignette.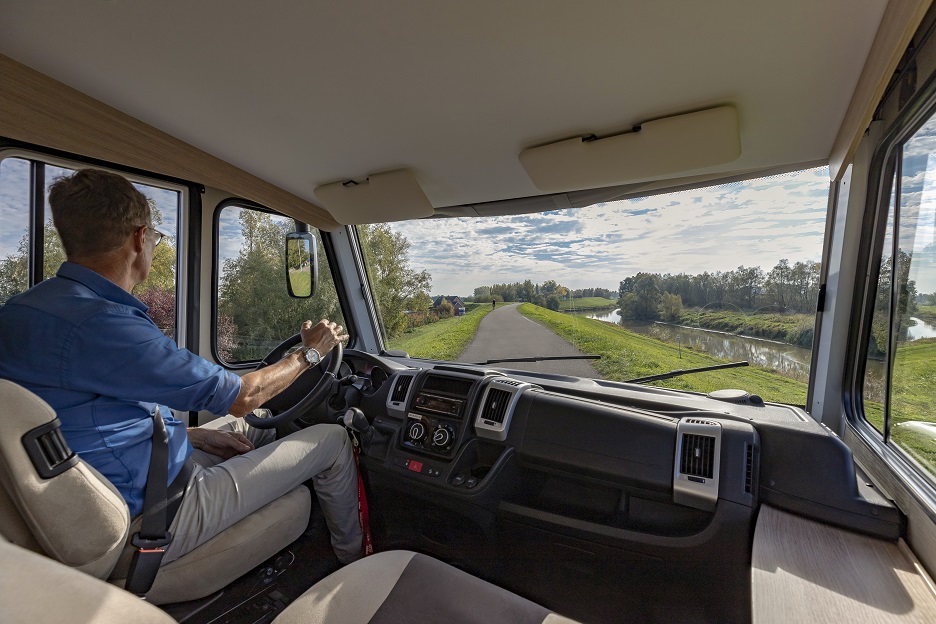 Campers & highway vignettes or toll badge
In which countries are highway vignettes mandatory for campers? Do you travel with a camper, then you may need a vignette to drive on foreign (fast) roads. We list the most important countries where a vignette is mandatory for you.
Austria
Switzerland
Slovenia
Italy (toll badge)
Spain (toll badge)
France (toll badge)
It is compulsory for tourist traffic on the Austrian, Swiss and Slovenian motorways to have an Highway vignette. These vignettes are available at the motorway border crossings of Austria, Slovenia and Switzerland.
For Austria, in 2019 you can choose a vignette with a validity of 10 days (± € 12,00). At the ANWB you will find all information about vignettes in Austria and you can order one online. At the Brenner, Tauern and Pyhr highway. And the Arlberg and Karawanka tunnel you pay extra toll.
A Swiss Autobahn vignette is standard for 1 year (± € 40,0.0). It must be possible to prove with a proof of purchase that the vignette has been purchased at an official point of sale. You should always have a proof of purchase with you. At the ANWB you will find all information about Vignettes in Switzerland you can order one online.
In Slovenia you also need a vignette. At the ANWB you will find all information about vignettes in Slovenia and you can order one online.
For Spain, Italy and France we do have a toll badge for rent. Them you can pass the road barrier with a speed of 30km/h. It is also possible to pay with card of cash, buth it wil take a lot more time.    
Do you want more information about vignettes?